News
Friday, July 16, 2021
Announcing the Center: Coffee Education for All
Get ready for a new kind of coffee education. The Center, a Sucafina company, is nurturing a better coffee industry by making coffee education more accessible to people across the supply chain. To learn more about what that means and how it impacts you, we've spoken to Tim Heinze, Coffee Education Manager, who's leading The Center and designing the curriculum.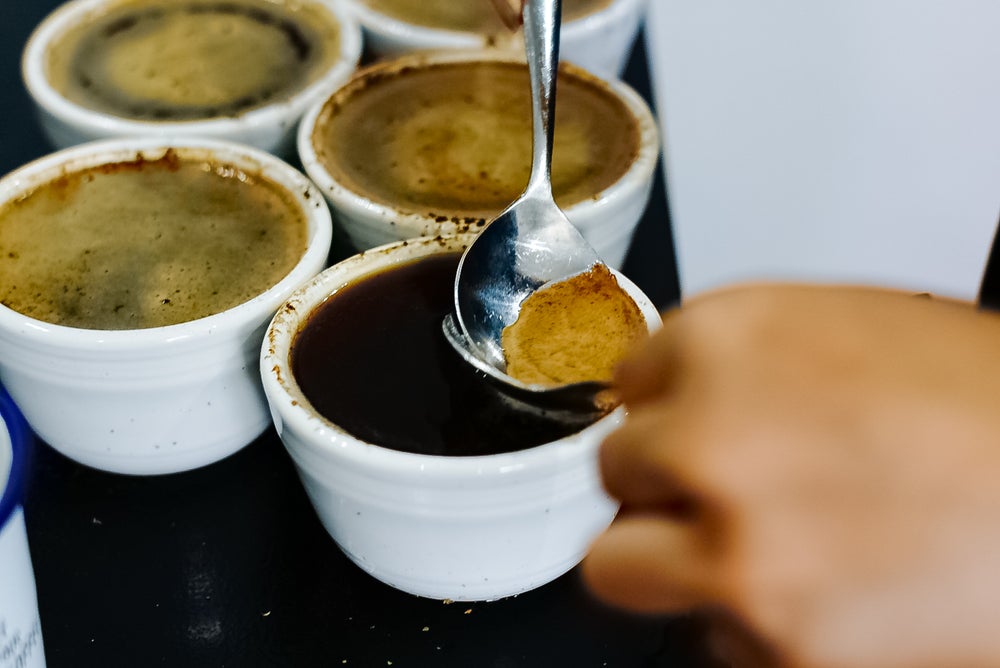 Don't miss out on any new content. Sign up to get notified when new courses, podcasts and more launch at The Center.
Tim has been working in coffee education for 8 years. He is a CQI instructor and has been involved in development projects in Southeast Asia and East Africa. He's passionate about increasing access to learning opportunities and believes education is a stepping stone to a more equitable coffee industry.
What is The Center?
Tim Heinze: The Center is an online learning community focused on providing accessible and high-quality coffee education to the global coffee community. It's a collaborative effort to improve the coffee industry by expanding access to high-quality education.
We want to support the improvement and increased sustainability of the coffee industry. Providing educational opportunities is a significant first step in this direction. When we say 'learn smart' - we really mean it. It's not just a slogan. It's about empowering people in the coffee industry to access the tools that they need to really add value and move the industry forward.
Getting access to good, reliable information is pivotal to improving your position or business, no matter where you work in the supply chain, but it can be really challenging. The implications are huge. As we know, there is a lot of great information out there and some really amazing courses. Coffee Education in the last 10 years has evolved exponentially, and professionalization is increasingly a priority. There are so many amazing educators and programs. But there are gaps, which is natural because up until now, as an industry, we've really focused primarily on hospitality, which is where the urgency of demand was.
Who should check out The Center?
TH: We'll be bringing relevant coffee education to everyone who wants to learn more, from producers to roasters. We're making something that has value for all parts of the supply chain, with a focus on bringing together current research, academics and the experience we have in Sucafina.
We're looking to fill some gaps in existing frameworks and opportunities. We're designing The Center to make it accessible to anybody who wants to learn. We believe that for too long there have been barriers to entry that exist with coffee education, and we want to do our part to lower those and make learning an enjoyable, enriching, and engaging experience.
To make education accessible, we're ensuring that content can be delivered and accessed online. It also means that we'll build content in a way that facilitates better learning and listen so that we can address needs from our community as they arise.
I think one of the most unique aspects of The Center is that we're focusing on how to build courses for adult learning and specifically for online learning. The reality is that learning online and learning face to face are different and require different modalities. We're focusing on how people learn online and how to best cater to our learners.
What kinds of courses will be available?
TH: There's going to be a range of courses, and we'll build them to meet the needs of our learners. There will be content on everything from coffee processing to roasting techniques and beyond.
We plan to be fairly organic in the early days so that we are better able to respond to our community's needs. We also want to learn from the community: What are the tools that YOU need, and how can we get that information into your hands?
We have a podcast and within the first month we'll be launching some courses in collaboration with a roasting/sensory partner and also a CQI processing level 1 course online. The other courses we're looking at doing are a coffee agrometerology course and a course on the coffee supply chain. Additional courses will launch throughout the rest of the year.
We'll also eventually be offering in-person courses at our SCA-certified training Campus for Sensory and Green in Australia.
Who will be teaching?
TH: We'll pull together experts from across our industry who are just as passionate about education and learning as we are. We'll also be drawing from the vast knowledge and expertise without Sucafina, including at origin, where we're working directly with producers and developing new programs that improve farmer profitability and overall success.
While we are excited to tap into the range of experiences and knowledge that exists within our Sucafina Group, we also will be stepping outside of this and partnering with academic and educational institutions to ensure the content we deliver can be trusted and is unbiased.
What is The Center's connection Sucafina?
TH: As a part of Sucafina, The Center was born out of Sucafina's core value of bringing shared value to our clients and partners. But it doesn't stop there. One of the directives of The Center is to partner with educational institutions to provide content authentication and expand the scope and scale of our courses.
How do people sign up?
You can sign up to stay up to date about new courses being released by going to thecenter.coffee.